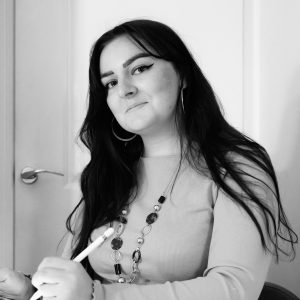 UX/UI | Branding
[su_button url="https://uswgc.co.uk/wp-content/uploads/2021/06/Physical-Consumerism-Insight-Report-O.-Phillips.pdf" target="blank" style="3d" background="#3b8ec1″ icon="icon: file-pdf-o"]Insights Report[/su_button]

Designer Bio:
Hello, I'm Olivia. Like many of my peers, when beginning this course I was unsure of the direction that I wanted to take within design. The past three years I have been challenged to experiment, resolve and question all expectations I had about a career in design and this industry. Leading to this final showcase where I now know who I am as a designer and where I want to go.
Not only have I been given the opportunity to develop my technical skills in programmes and software, I've seen how my thinking and approach to design problems has grown and matured, asking how design can lead the way in solving problems for the future, which was the major drive behind my final project.
In my final exhibition project, I've pursued my interest in omnichannelling in the retail environment and creating efficient, ethical and authentic physical experiences. The project has been a true embodiment of the type of challenges I seek to be part of in future. Bringing together user experience to resolve a real world issue and communicating that effectively through branding.
Alongside my degree I've had the added benefit of putting these skills to practice designing in-house for a children's entertainment centre. A design chameleon, I love the variety of tasks and disciplines I've been able to explore; designing visitor experiences and event planning to print and social media. Moving forward, I'm now looking for my next challenge as a branding designer.
Project Bio: 
Our high streets have been left dull, empty and characterless in recent years, with online shopping being hailed and scapegoated as the cause of the "death of the high street". However, Hystreet believes that online shopping is not the enemy but our strongest ally and will help us rebuild our once bustling high streets. 
Hystreet's mission is to empower independent business owners and shoppers alike by providing an innovative multi-channel solution that serves the needs of the 21st-century individual. Hystreet enables small businesses to reclaim our vacant high street shops to inject some much-needed personality into our UK high streets. 
In a post-Covid world, we have witnessed how the flexibility of multi-channel options have been crucial for customers and is the next natural progression for retail. The Hystreet system offers ultimate flexibility for the shopper, allowing them to choose how they purchase whilst simultaneously multiplying sales opportunities for businesses. For example, shoppers may start by researching products online, coming into the store to experience them and buy in-store or at home, a process that merges the best of online and physical shopping for the ultimate hybrid shopping experience. 
As individuals, we are ever-increasingly searching for the best in experience, convenience and quality, and the Hystreet system can deliver all of this. But fundamentally, Hystreet's dedication to reclaiming our high streets and the empowerment of our independent businesses will set a precedent for the future. 
The future of shopping is here: and it's called the Hystreet. 
Contact:
E-Mail: livfphillips@gmail.com
Instagram: @introducing.olivia
Portfolio: introducingolivia.co.uk