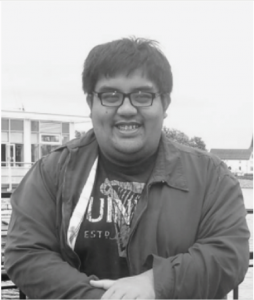 Motion | Branding | UX
[su_button url="https://uswgc.co.uk/wp-content/uploads/2021/06/Valiant-Research.pdf" target="blank" style="3d" background="#3b8ec1″ icon="icon: file-pdf-o"]Insights Report[/su_button]

Designer Bio:
My ambitions in Graphic Design started from a somewhat unexpected time during college. Since moving my interests in traditional art forms of brush and canvas, I never regretted taking on the path of taking what I knew then into a new digital format. As a junior designer, I was immersed in a new design world that I wanted to push forward. My projects and endeavours led to animation, branding and UX. As a result, I now strive to produce and entertain with digital artistry. 
Project Bio:
The Problem
In today's society, the use and understanding of mythology and myth stories have grown into a vastly popular genre influencing various influences such as in the entertainment industry, branding and even in everyday household essentials. However, the stories and the true meaning behind the myths have been forgotten. As a result, people have forgotten the inspiration and crucial lessons these stories bring.
How might the use of these inspiring tales and crucial stories be renewed? My idea revolves around the return of branding mythology to create a product that appeals to the modern audience and opens them forward to learning about Mythology and drawing from the lessons they provide.
The Solution
Using various branding and product research methods, I decided to focus on the appeal of a drinking product that is regularly relied upon as a conversational piece. The use of alcoholic spirits was ideal as a platform to base my product on and express mythology as a design vision and a springboard to its lessons.
The Brand that Sells and Tells
The Mythica Spirits range allows consumers to enjoy a wide variety of locally selected goods depending on their cultural basis and inspiration and offers a myth story to follow during the product's consumption.
Following a scanned code applied on the bottle's packaging to the product's website, these stories can be followed when the consumer buys the product or pays to access the archive of the story in full.
Collectable Value
The stories these products bring is two-fold. Ultimately, the archive website provides an access library that holds the stories each product brings with them. But the packaging and its designs also bear the product's classical style—each an incentive to collect and display the stories as a whole.
Consumers can also further access the website to contact a wider community of other interested people looking to delve further into the world of Myth, providing access to allow learning and proactivity in the circles of Mythology and Myth stories as a whole.
Contact Me:
E-Mail: valantony15@gmail.com
Facebook: facebook.com/valiant.bongalos
Portfolio: valantony15.wixsite.com