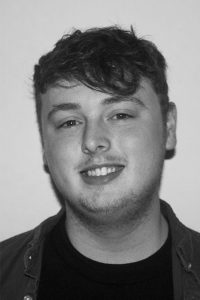 [su_spacer size="20″]
[su_button url="https://uswgc.co.uk/wp-content/uploads/2020/06/Alex-Bodman-Alex-Bodman-Research-Investigation.pdf" target="blank" style="bubbles" background="#da5231″ icon="icon: eye"]Insight Report[/su_button]
[su_spacer size="20″]
This project gave me the opportunity to choose from a selection of phrases and create a working typeface.
During this project, I developed a typeface based on the phrase "The Games of Murderers". I combined the words Game and Murder to create a typeface based on human anatomy to represent a game. I looked at the assortment of human bones coming together like a puzzle to create a skeleton which also works as a representation of murder.
While developing this project, I experimented with stipple pens as a way to detail the typeface. This lead me to use a similar aesthetic when digitising the final typeface.