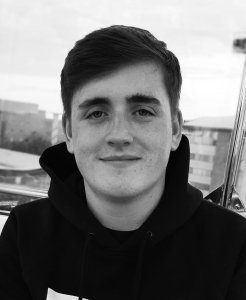 Branding | Campaigns | Typography
[su_button url="https://uswgc.co.uk/wp-content/uploads/2021/06/Holistic-look-into-live-music-industry-Insight-Report.pdf" target="blank" style="3d" background="#3b8ec1″ icon="icon: file-pdf-o"]Insights Report[/su_button]
Designer Bio:
Hi I'm Callum, I'm an experienced graphic designer who specialises in typography and branding. I always have the willingness to talk about the creative sector as well as striving to improve my creative work to the best possible standard.
My inspirations for design stem mainly from music and try to revolve my area of design around music as much as possible. The piece of design I admire the most in this area is Peter Saville's classic cover art for Joy Division's album 'Unknown Pleasures' and was one of the first pieces of design I fell in love with.
Project Bio:
Follow in Their Footsteps is an interactive awareness campaign that highlights the local music scene and how important the scene is to the local community and without it we will lose out on what could be the next big thing.
The campaign aims to bring light to smaller venues that play a significant part within the scene as well as the artists who play there.
Ultimately the campaign highlights how important it is for the local scene that these upcoming artists follow in the footsteps of local music legends to keep the scene alive.
Contact Me:
LinkedIn: linkedin.com/in/callum-davies
Instagram: @cjdgraphics