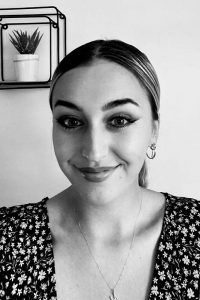 [su_button url="https://uswgc.co.uk/wp-content/uploads/2020/06/Meg-Wellington-Insights-report-MW-.pdf" target="blank" style="bubbles" background="#d95232″ icon="icon: eye"]Insights Report[/su_button]
[su_spacer size="20″]
[su_button url="https://meganwellingtongraphics.squarespace.com" target="blank" background="#000000″ icon="icon: user"]Portfolio[/su_button]
When 2,000 women were questioned in a recent survey conducted by Jo's Cervical Cancer Trust, over 60 percent of those said they were not aware that cervical screenings actually prevented 75 percent of cervical cancers. Women who were asked questions on both breast and cervical screenings stated that their biggest reason for missing appointments was due to being embarrassed and/or lack of time. These figures are rising.
My challenge was to explore design and what it can do to help women feel more comfortable, empowered and knowledgeable about their intimate tests.
My solution was created in 3 parts. Firstly, I designed a women's health app that tracks your cycle, health and symptoms. 'SYNC' is an app that follows women through all stages of their reproductive health through contraception, fertility and lastly menopause. The app allows how to connect with other women going through similar situations, educates and empowers women, reminds them of intimate tests and lastly even allows them to order and receive smear test results from an at-home smear test kit that was created in the second part of my solution.
The SYNC subscription box is sent out every 3 years and includes an at-home smear test to encourage women to make sure they are staying safe and taking their tests. I also included instructions, encouragement cards, pads, chocolate, tea and lastly a 'BreastFriend'.
Due to many women not knowing what to feel for when checking for abnormalities in their breasts, the 'BreastFriend' is a campaign that includes a gel-filled silicone breast that enables women to feel what an abnormality in their breast would feel like.
Contact details:
[su_button url="https://www.linkedin.com/in/megan-wellington-432561135/" target="blank" background="#9a9a9a" radius="round" icon="icon: linkedin-square"]LinkedIn[/su_button]
[su_button url="https://www.behance.net/1603753709c3″ target="blank" background="#9a9a9a" radius="round" icon="icon: behance-square"]Behance[/su_button]
[su_button url="https://instagram.com/megan_wellington_graphics?igshid=yc5nalfj1sw2″ target="blank" background="#9a9a9a" radius="round" icon="icon: instagram"]Instagram[/su_button]
[su_spacer size="20″]