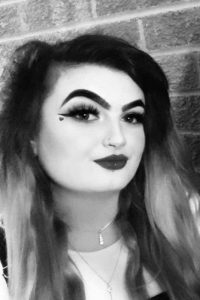 [su_button url="https://rhiannondarnleydesign.myportfolio.com/work" target="blank" background="#000000″ icon="icon: user"]Portfolio[/su_button]
For my final project, I decided to look at mental health services as there seems to be a stigma around these services and how long their waiting lists have become. From my research, I discovered that people weren't happy with these services and weren't getting the help that they needed.
My solution to the brief was to create an app for people who suffer from mental health conditions where they can contact people who may be experiencing the same issues or a counsellor via a messaging service. The app also includes CBT (Cognitive Behavioural Therapy) training, sleep meditation videos, somewhere they can create a playlist of music they like – as this helps with mental health issues – and a section where the user can keep track of their appointments.
I also wanted to add a personal touch to the app where the users can change their own character into different styles.
I believe this solves the brief as it's cutting the time that people have to wait for some of these services and gives them more immediate help and access to the services provided.
Contact Details:
[su_button url="https://www.linkedin.com/in/rhiannon-darnley-0510b314a/?fbclid=IwAR1vhIv-2gKYED1rQZTwkCuIMs73YBEfH0cRLsEAn4yVbZXUcY7iusopSo0″ target="blank" background="#9a9a9a" radius="round" icon="icon: linkedin-square"]Linkedin[/su_button]
[su_button url="https://www.instagram.com/rhiannondarnleydesign/?fbclid=IwAR2bbI1bE8vg5gUsEmdyMBnQPcWMtJkkXcaE4rngBbV7bSLNOC1mdlKQ45Q" target="blank" background="#9a9a9a" radius="round" icon="icon: instagram"]Instagram[/su_button]