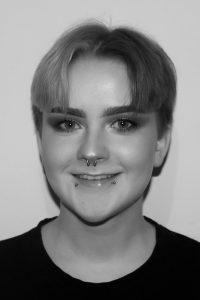 [su_button url="https://uswgc.co.uk/wp-content/uploads/2020/06/LGBT-research-design-doc-compressed.pdf" target="blank" style="bubbles" background="#da5231″ icon="icon: eye"]Insight Report[/su_button]
My project is called "Fluid" which is an app that educates high school students about LGBT+ identities as well as being a diary-type app which tracks their mood. It allows them to enter diary entries and lets them set up their own profile, that for safety sake, won't be seen by anyone else apart from the user.
The problem I had to solve was that there is not nearly enough LGBT+ education for children between 11-16 in school or otherwise and I feel this is a very important age for children to learn about their sexuality and identity because they may start having relationships and learning about their bodies through puberty. My app aims to teach children about all the different identities, allowing them to choose their own identities and then track their progress in terms of mental health and their general life through a mood tracker and a diary.
The app also includes a "hide" feature with a button on every single screen which the child would push and then the app would close and disappear from the home screen, as if it was invisible. This is in an attempt to safeguard those children who maybe have homophobic/transphobic parents and would feel scared having an app that shows their identities whilst still living with their parents.
I think this app would be very beneficial as the children could learn about their own identities and the identities of their peers, be more educated in LGBT+ identities and therefore hopefully more accepting. It could also to let them positively vent some of the complex things that may be going on in their lives.